About Us
Valleygems is a registered kennel with the Canadian Kennel Club (CKC). We are a small hobby kennel located in Eganville, Ontario, in the Ottawa Valley breeding only Shetland Sheepdogs (Shelties). Our puppies are raised in a home environment with our attention always focused on healthy, happy shelties with excellent temperament for show, performance and companion/pet homes. Each year we welcome and enjoy a few litters of puppies, with each breeding carefully planned.
As far back as I can remember, as a child when asked what I wanted to do when I grew up my response was always to live near the water and have a dog breeding kennel. Odd career aspirations for a child but that was my belief of how my life would be a happy one. In 2001, our family decided to get a Shetland Sheepdog as a family pet. We chose a sheltie because of their beauty, intelligence, their sheer elegance and size was perfect in the city. We brought home a sable and white male named Teddy. This little dog convinced me that shelties were the ONLY breed for me! I had several breeds of dogs before, some mixed, some purebreds but…this amazing little dog was the BEST!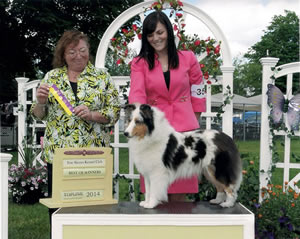 In 2004, that childhood dream became a reality. I began researching various breeders/kennels in my areas to begin my journey in breeding and showing shelties. I was extremely fortunate to come upon Nitelatches Shetland Sheepdogs owned by Irene & Brendan Latchford, who has been my respected Mentor and trusted friend since. My first dog was co-owned with Irene – Nitelatches Grace Under Fire (Gracie) – a beautiful bi-black female who was 1 year old. We co-bred our first litter in 2005. Gracie was never shown but she was our foundation and that sweet little dog proved to intensify my love of the breed and confirm this was exactly what I wanted to do.
In 2006 I added Jasper (Nitelatches Of To Pawsrus) to our kennel. At 2 years old (2008) Jasper and I entered our first Conformation Show in Arprior, ON. Neither of us had ever been in a dog show or a class. That first show, under Judge Thomas Touzel, Jasper and I left the showring with a "Best of Winners" and our first 3 points! Jasper went on to be handled by a fantastic young lady, Taylor Stevenson at Essex County Dog Show a few months later to complete his championship and a few weeks after was shown as a Special in Bracebridge winning 2 BOB, a Group 3rd and Group 4th. Our first homebred champion came in 2013 and was a puppy from our very own, Nitelatches Ruby Tuesday. Nitelatches Valleygems Vision - Pictured, (Sire Linspans Nitelatches Pokerstar) is owned by Irene Latchford at Nitelatches.
Our kennel name was derived by our location in the Ottawa Valley. The locals refer to it as "The Valley" and like a precious gemstone, each of my shelties are precious and unique and a very valuable part of my life that I treasure. Valleygems Shetland Sheepdogs was registered with the Canadian Kennel Club in January 2008.
This begins another new venture for us growing to launch a website. Thank you Pennylynn Woodruff for your guidance and skill in creating our website!
Thank you for visiting our new website!
Member of:
Canadian Kennel Club (CKC)
Canadian Shetland Sheepdog Association (CSSA)